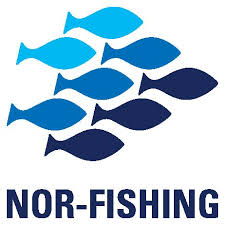 The organisers of this years cancelled Nor-Fishing event have announced that they will instead be offering a digital version of the exhibition.
The exact time is not yet set, but the digital event will last 2-3 days during Nor-Fishing week, 18 – 21 August.
For those 'visiting' the exhibition, the intention of the organisers is that it should be like watching a live TV show. They will set up a studio with a host – and alternate between exciting reports and guests in the studio. Norwegian TV personality (and active seafood trader) Arne Hjeltnes will escort viewers through the exhibition days.
In addition to being able to follow the live stream directly, the entire fair will be posted on our website so viewers can view the content at a time that suits them. The digital fair will thus live on after the event is over. Following Nor-Fishing 2020 Digital is completely free of charge for viewers.
The exhibition is a very important international meeting point for members of the fisheries sector, and an important arena for presenting new technology to the industry. Nor-Fishing 2020 Digital will re-create the physical marketplace that Nor-Fishing represents, in a new and exciting format. Exhibitors will be be able to be presented with new technology, have a dialogue with customers through the chat function – and arrange their own digital meetings with other viewers. This will be an arena for presentations, dialogue and trade between exhibitors and visitors.
Nor-Fishing is celebrating its 60th anniversary this year.